Hair Loss
Anti Hair Loss Serum

Hair Loss
Anti Hair Loss Serum
A clinically proven innovative Anti-Hair Loss Serum with molecular BioScience that stimulates natural hair regrowth and helps to prevent hair loss.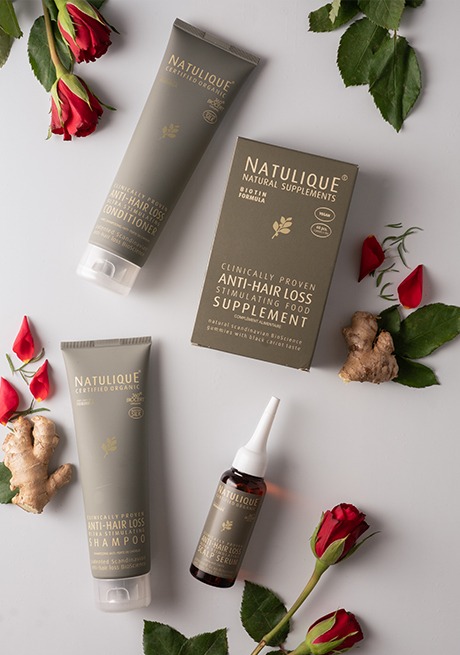 Anti hair loss serum
Clinically Proven Hair Growth Solution
The innovative NATULIQUE Anti-Hair Loss Scalp Serum is a clinically proven hair growth solution that stimulates hair follicles and increases the production of hair growth factors. This encourages new hair growth and helps prevent further hair loss.
The unique formula contains highly beneficial active ingredients that deeply penetrate the scalp to stimulate hair follicles and keep the hair roots strong. It increases the thickness of individual hair strands to give hair a fuller and healthier appearance.
For men and women of all ages, the Anti-Hair Loss Scalp Serum can be used on your clients as a luxurious in-salon treatment or taken home to maintain healthy hair growth.
---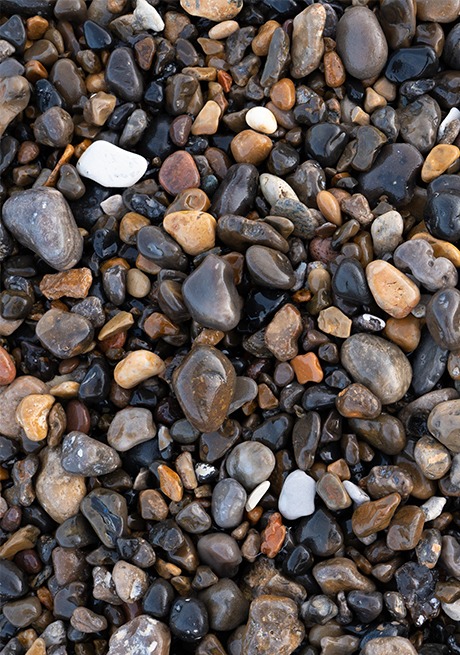 Home and salon treatment
Instructions For Use
Instructions for use in salon: Apply a suitable amount of the serum onto dry or wet scalp. Gently massage serum into scalp and roots for 1-2 min. Leave product in for 30 min to take effect and rinse out if desired. The non-greasy active formula does not demand rinsing out.
Instructions for home treatment: Apply a small amount of Anti-Hair Loss Serum at night to the roots and scalp. Rinse out next morning. Use NATULIQUE Anti-Hair Loss Shampoo and Conditioner to help stimulate new hair growth.
---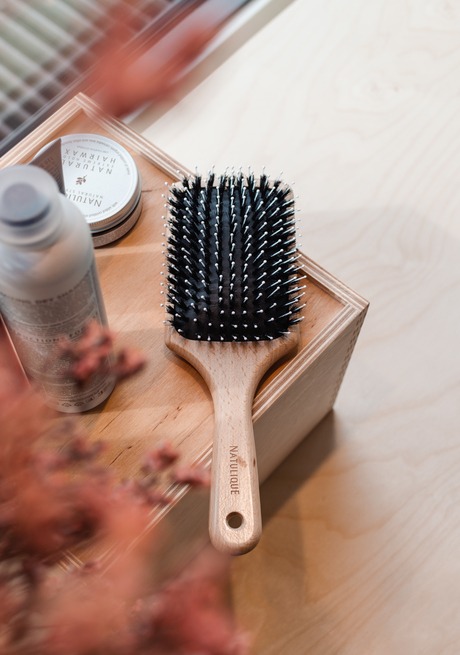 Ultra Gentle Formula
Organic And Natural Ingredients
Citrus Aurantium Dulcis Oil Function: Masking
EWG's Skin Deep Score: 1
A volatile oil obtained from the fresh peel of the orange fruit and is rich in Vitamin C. Increases circulation and blood flow to the hair scalp thereby stimulating hair regrowth.
Rosmarinus Officinalis Leaf Oil Function: Antimicrobial, Masking and Skin Conditioning
EWG's Skin Deep Score: 1
Produced from the leaves of rosemary. It contains antioxidants and can stimulate hair growth.
Apigenin Function: Antioxidant and Hair Conditioning
EWG's Skin Deep Score: 1
Apigenin is a bioflavonoid found in many fruits and vegetables, such as parsley, onions, oranges and chamomile. This flavonoid acts as an antioxidant. Research shows that apigenin stimulates hair growth.
Biotinoyl Tripeptide-1 Function: Hair Conditioning
EWG's Skin Deep Score: 1
It can boost new hair growth by more than 100% along with reducing hair loss by more than 50%.
Oleanolic Acid Function: Skin Conditioning
EWG's Skin Deep Score: 1
Oleanolic acid is a natural component of many plants, such as olive trees, and have antioxidant and antimicrobial effect.
---
Product Ingredients
Aqua (Water)*, Aloe Barbadensis Leaf Juice (Aloe Vera), Cetearyl Alcohol, Caprylic/Capric

Aqua, Alcohol, Butylene Glycol, Glycerin, Citrus Aurantium Dulcis Oil, Rosmarinus Officinalis Leaf Oil, Apigenin, Biotinoyl Tripeptide-1, Oleanolic Acid, PPG-26-Buteth-26, Caprylyl Glycol, Cetrimonium Chloride, Limonene, Citric Acid, Glyceryl Caprylate, PEG-40 Hydrogenated Castor Oil, Phenylpropanol, Polysorbate 20.
*) Ingredients from Certified Organic Farming
---
Want to know more about Anti Hair Loss Serum?
---